Escuelas secundarias católicas
St. John the Evangelist Catholic School encourages all families to take advantage of Tucson's four area Catholic High Schools:
St. John will provide students in 8th grade the opportunity to visit the Catholic high schools during the school year.
Entrance exams are required and may include an interview process for students interested in attending Catholic High Schools. All families should keep informed of deadlines for registration and placement tests. Contact the high school Registrar Office for more information.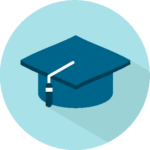 La escuela católica San Juan Evangelista anima a todas las familias a aprovechar las cuatro escuelas secundarias católicas de Tucson:
San Juan brindará a los estudiantes de octavo grado la oportunidad de visitar las escuelas secundarias católicas durante el año escolar.
Los exámenes de ingreso son obligatorios y pueden incluir un proceso de entrevista para estudiantes interesados en asistir a escuelas secundarias católicas. Todas las familias deben mantenerse informadas de los plazos para las pruebas de registro y colocación. Póngase en contacto con la Oficina de Registro de la escuela secundaria para obtener más información.